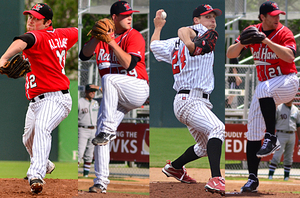 FARGO, ND – Four Fargo-Moorhead RedHawks pitchers have been named to the Baseball America Independent Leagues Top 25 Prospects, the magazine announced. RedHawks RHP Nathan Kilcrease is ranked fifth on the list, followed by RHP Brian Ernst at 11th, LHP Joe Harris at 22nd and RHP Taylor Stanton at 23rd.
Kilcrease, 24, was 4-2 with a 1.67 ERA and seven saves in 43 games for Fargo-Moorhead in 2013. He pitched 54.0 innings and allowed 13 runs (ten earned) on just 40 hits. Kilcrease struck out 54 batters, walked 19 and held opponents to a .209 batting average against him.
Ernst, 22, joined the RedHawks in June out of East Stroudsburg (PA) State University and quickly established himself in the starting rotation. He was 7-2 with a 4.34 ERA in 13 starts. Ernst pitched 76.2 innings and allowed 41 runs (37 earned) on 77 hits. He struck out 45 batters and walked 34.
Harris, 27, was one of the best relievers in independent baseball in 2013. He was 10-3 with a 1.55 ERA in a team-record 53 appearances. Harris allowed just 47 hits in 69.2 innings pitched while recording 59 strikeouts. Opponents hit just .187 against Harris in 2013, and left-handed hitters managed a meager .167 average against him.
Stanton, 25, was the American Association Pitcher of the Year after posting a 9-4 record with a league-leading 2.43 ERA. Stanton made 19 starts for Fargo-Moorhead and allowed 39 runs (34 earned) on 115 hits in 126.0 innings pitched. He struck out 108 batters and walked just 20.
BASEBALL AMERICA TOP 25 INDEPENDENT LEAGUE PROSPECTS
NAME POS. TEAM LEAGUE
1. K.C. Serna SS Amarillo American Association
2. Pete Perez RHP Southern Illinois Frontier League
3. Tim Adelman RHP New Jersey Can-Am League
4. Jeff Shields RHP Trois-Rivieres Can-Am League
5. Nathan Kilcrease RHP Fargo-Moorhead American Association
6. Race Parmenter RHP Southern Illinois Frontier League
7. Marquis Riley 2B Joliet Frontier League
8. C.J. Ziegler 1B Wichita American Association
9. Junior Guerra RHP Wichita American Association
10. Lucas Irvine RHP Kansas City American Association
11. Brian Ernst RHP Fargo-Moorhead American Association
12. Travis Bradshaw RHP Southern Illinois Frontier League
13. Wes Alsup RHP S. Illinois/Ft. Worth Frontier/United
14. Joe Weik OF/1B Amarillo American Association
15. Patrick Mincey RHP Grand Prairie American Association
16. Eric Draxton RHP Amarillo American Association
17. Kyle Regnault LHP Quebec Can-Am League
18. Michael Schweiss RHP Normal Frontier League
19. Cam Kneeland 3B Trois-Rivieres Can-Am League
20. Jon Dziomba 2B San Angelo United League
21. Josue Peley C Quebec Can-Am League
22. Joe Harris LHP Fargo-Moorhead American Association
23. Taylor Stanton RHP Fargo-Moorhead American Association
24. Marshall Schuler RHP El Paso American Association
25. Chris Cox RHP Quebec Can-Am League