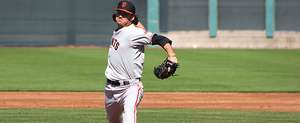 The Fargo-Moorhead RedHawks have signed RHP Drew Bowlin to a contract for the 2014 season, the club announced.
Bowlin, 27, made three stops in 2013 as a member of the San Francisco Giants organization. He pitched the majority of the season for the Richmond (VA) Flying Squirrels of the Eastern League (AA), where he was 4-3 with a 4.87 ERA in 32 games. Bowlin pitched 44.1 innings at Richmond and allowed 25 runs (24 earned) on 36 hits. He struck out 33 batters and walked 34. He also pitched one game for the Fresno Grizzlies of the Pacific Coast League (AAA) and three games for the San Jose Giants of the California League (High-A).
Bowlin was selected by the Giants in the 23rd round of the 2007 draft out of Chattanooga State Technical Community College in Tennessee and signed with the Giants in 2008. In five seasons in the Giants organization, Bowlin was 11-8 with a 4.55 ERA and ten saves in 154 games (five starts). He has pitched 195.2 innings, allowed 106 runs (99 earned) on 175 hits and struck out 171 batters.