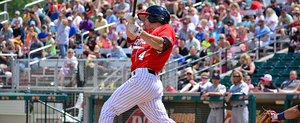 The Fargo-Moorhead RedHawks were unable to keep the Winnipeg Goldeyes offense in check on Sunday afternoon, and it cost the home club a chance at a series sweep of the Goldeyes at Newman Outdoor Field in Fargo. The Fish used timely hitting and snapped the 'Hawks' four-game winning streak.
The 'Hawks' starter Danny Gutierrez battled with some control issues, and after striking out first hitter, he walked Jake Blackwood and Ray Sadler. Luis Alen made him pay with his RBI single plating Blackwood, making it 1-0 for Winnipeg. An answer from the RedHawks came with their first hitter, as Zach Penprase homered to left field to tie the game1-1. It was Penprase's second long ball of the year.
More trouble for Gutierrez came in the bottom of the second, when Josh Mazzola found center-field gap with a triple. Jordan Guida then took the ball for a ride with a double to left field, bringing in Mazzola and giving the 2-1 lead to Winnipeg. The Goldeyes added another single run in the third inning, extending their lead to 3-1 on a Sadler solo home run, his sixth home run of the season.
These runs, however, were immediately answered by Doug Simunic's squad. Anthony Kaskadden lifted his first home run of the year, making it 3-2 for Winnipeg. C.J. Retherford later added an RBI single that score Ronnie Bourquin to tie the game 3-3.
The crucial runs came in the top of the sixth and seventh for the Goldeyes. After Donnie Webb walked, Reggie Abercrombie singled and Josh Mazzola brought Webb in, while Abercrombie got home safely on an throwing error on the tail end of the play. More runs crossed the plate in the top seventh due to walks and timely hitting. Tyler Kuhn started the rally, Blackwood singled to right field. After both runners advanced a base on a wild pitch, Luis Alen rapped a two-run single to make it 7-3 for Winnipeg.
Petey Paramore singled home Retherford to make it 7-4, but it was not enough for the RedHawks as the crowd of 3,066 saw the home team fall to the Goldeyes.
Newly signed Chandler Barnard (1-0) earned the win for the Goldeyes, his first of the season, while Danny Gutierrez (2-1) took the loss for the RedHawks. The save was picked up by a right-hand sidearmer Kyle Bellamy, his fourth save of the year.
After a day off the RedHawks will host the Lincoln Saltdogs for a three-game series starting on Tuesday night at 7:02 p.m. Tickets can be purchased by logging on to www.fmredhawks.com or by calling (701) 235-6161.