Coaches
Chris Coste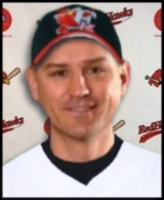 Manager
Email : Chris Coste
Hometown: Fargo, ND
Resides: Dent, MN
College: Concordia College (MN)
RedHawks Debut: 1996
Chris Coste played third base and pitcher for Concordia from 1993 to 1995. He earned three consecutive All-American awards and still holds the school record for career batting average and career earned run average. Coste helped the Cobbers win the MIAC championship in 1995 and was inducted into the Concordia Athletic Hall of Fame in 2007.
He started his professional career in 1995 playing for Brainerd, Minnesota in the North Central League and the Brandon Grey Owls in the independent Prairie League. From 1996 to 1999, he played four seasons for the Fargo-Moorhead RedHawks of the independent Northern League, winning the league championship in 1998.
In 1999, Coste was signed by the Pittsburgh Pirates but was released after spring training and returned to the Fargo-Moorhead Redhawks. In 2000, Coste signed with the Cleveland Indians organization, having gotten significant playing with their Triple-A affiliate. He spent 2003 with the Boston Red Sox organization and 2004 in the Milwaukee Brewers system. Coste first signed with the Phillies in 2005, spending the entire season with their Triple-A affiliate. He remained in the minors until his promotion to the Phillies, facilitated by his fantastic performance in 2006 spring training. After starting the 2007 season in Triple-A, Coste was called back up to the majors on May 12, 2007.
Coste won a World Series championship with the Philadelphia Phillies in 2008 and became the first player from the MIAC (Division III) to win a World Series. He played in the major leagues for the Phillies, Houston Astros, New York Mets and Washington Nationals organizations. Coste appeared in 299 Major League Baseball games and had a career MLB average of .272.
He has written two books about his experiences in professional baseball: "Hey... I'm Just the Catcher: An Inside Look at a Northern League Season From Behind the Plate," published in 1997 and "The 33-Year-Old Rookie: How I Finally Made it to the Big Leagues After Eleven Years in the Minors." The book, which chronicles Coste's first season in the majors, contains a foreword by John Kruk.
Following his retirement as a player, Coste was an in-studio analyst on Comcast SportsNet and appeared on Phillies Pregame Live and Postgame Live shows.
In 2014, Coste was named the head coach of the Cobber baseball program after serving as the team's assistant coach for three seasons.
Coste was named interim manager of the RedHawks for the 2020 season.