Coaches
Anthony Renz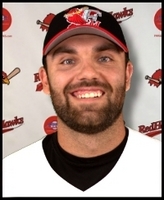 Hitting Coach
Email : Anthony Renz
RedHawks Debut: 2018
Anthony Renz is in his second season on the Fargo-Moorhead RedHawks staff.

A 2015 magna cum laude graduate of Mansfield University, Renz earned his bachelor of science in electronic media while achieving minors in public relations and business. He is currently seeking a master of science in communications studies at Shippensburg University.

Renz was a three-year baseball captain with the Mountaineers. On the diamond, Renz was a .304 hitter, totaling 19 home runs and 101 RBIs over a four-year career. As a senior, Renz was an All-PSAC Eastern Division First Team and All-Region performer who hit .357 with eight home runs and 37 RBIs while ranking ninth in the conference with 14 doubles.

Following his graduation in 2015, Renz signed a professional contract with the Las Vegas Train Robbers of the Pecos League. He later moved to the Fargo-Moorhead RedHawks of the American Association for two months before settling in with the Evansville Otters in the Frontier League.

Renz is a native of Danville, PA.